There is only one place in the world where you will never get a speeding ticket: the Sea Highway! And which engines (today also environmentally friendly and fuel-efficient) give the strongest sensations? It's the outboards, no doubt about it!
But there is more. Today's most "glamorous" boats are also those that mount outboards at the stern, even those up to 15 meters in size with two or three outboard motors .
To give you a sense of the reality of the outboard phenomenon even on large boats, we went hunting for these boats at Milan Yachting Week – The digital boat show.
We offer five of various types, but all of them fast, from 10 to 15 meters with powers from 500 to 1300 horsepower, with two or three outboards. Enjoy your visit.
Outboard boats from 10 to 15 meters
Sacs Rebel 47
Sacs Rebel 47 with three 425-hp outboards. In Sacs Marine 's booth at Milan Yachting Week presenting the Sacs Rebel 47 Open Outboard.
Son of the Sacs Rebel 47 Open Inboard, which uses inboard engines, the new 47 Outboard looks good right out of the box with three Yamaha mega-outboards of 425 hp each at the stern, pushing it to a top speed of 50 knots
It's not just performance that is this superib's strong point; the Sacs Rebel 47 Open Outboard has an amount of space above and below deck that was once unthinkable. We recommend that you look at the photo gallery now.
---
Beneteau Antares 11
In Italy without license plates with two 300-hp outboards. On the brand new Antares 11 and 11 Fly (new 2021), 9.90 meters of hull length (in Italy without registration) was enough to make a boat that is a small superyacht with a cockpit that opens (yes you read that right!), an upper cabin with a galley, powered by two 300-horsepower outboards and with five beds in two cabins. And in the fly version a "second floor" where you can pilot, lie down, eat, relax as if on a private terrace. Beneteau Antares 11 and 11 Fly are boats that therefore guarantee optimal habitability.
---
Beneteau Gran Turismo 36
Beneteau Gran Turismo 36 (11.56 meters) with two 350-horsepower outboards is the sporty boat for year-round living. Push a button and the roof opens, sheltering the driver's station and cockpit. If you want, you can also choose the more powerful version,with two 350-horsepower outboards. But when you are in the roadstead after the bath you sit around a table of eight and in front of you is the fully equipped kitchen. As an interior, however, it does not disappoint. Go down to the sleeping area with two double cabins, a large bathroom, another kitchen with a nice dinette. In short, Beneteau's Gran Turismo 36 is the ideal boat for those who want to experience boating all the time, all year round.
---
Pardo 38
Pardo Yachts' Pardo 38 (11.90 meters) with three 350-horsepower outboards. That is, when class is not water. The Pardo 38, the epitome of the open boat (but below deck there is one or two cabins with bathrooms) walkaround, that is, the boat where on deck you walk on a single plane, from bow to stern.
Plenty of space on the Pardo 38 for outdoor living, but sheltered by a carbon-fiber T-Top (an elegant roof) that covers from the wheelhouse area to the dining area (with a table around from six comfortable seats), with the option of extending the cover aft with a bimini. Outstanding performance with three outboards up to 350 each and over 50 knots of top speed .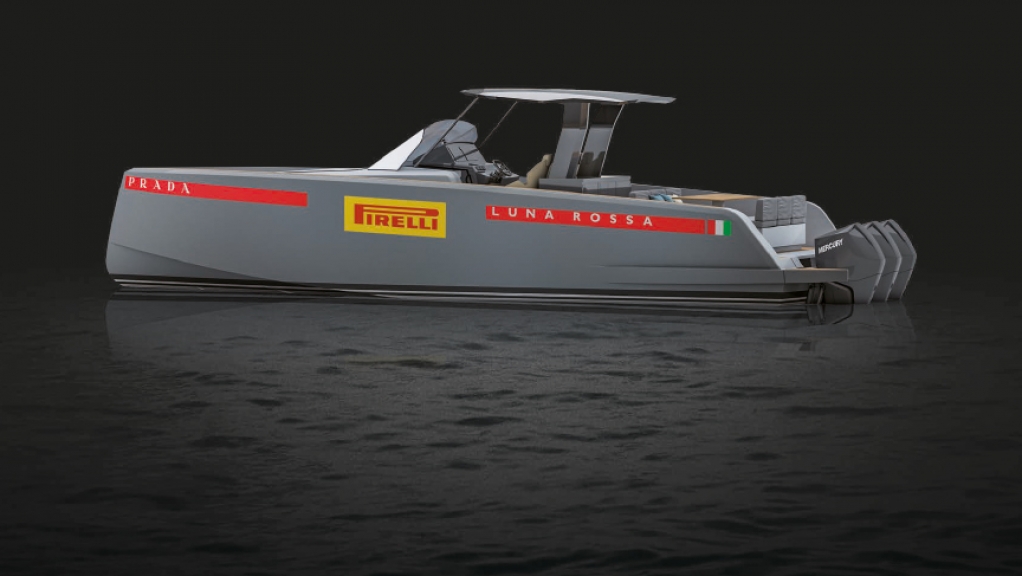 ---
Tecnorib Pirelli 42, two or three outboards for total 900 hp
And now to the alternative, the Tecnorib Pirelli 42 inflatable boat. We give you some previews of what you will find by virtually boarding the boat. The deck is like that of a yacht, with a large bow sundeck offers comfort and safety, while the cockpit is equipped following the owner's requests and allows for up to 14 guests.
Going below deck, despite the 13-foot dinghy and a tapered profile, the open-space interior cabin is tall and voluminous. The highlight is the motorization that has an outboard option where two or three engines can be installed for a total of 700 to 900 HP . This dinghy has a wealth of accessories to provide the boat, as well as customization choices.